Online Parenting Skills
FAM 181 — STAR PARENTING — Online

Ways STAR Parenting has helped —
I think before I act more now.
I feel calmer as a parent. I know I have tools I can use if I need to.
I know how to tackle the big ugly problems I sometimes face as a parent.

FAM 181 introduces you to STAR Parenting. This approach to child guidance can be used with your children, your students, your nieces and nephews. In the North Seattle College distance learning class you will learn: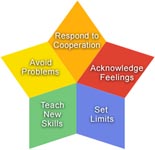 a four-step process to deal with challenging behavior
to consider children's temperaments, developmental stages, and your long-range goals
to use tools in real-life situations from five areas of healthy guidance — see star
to generate a variety of ideas for dealing with the situations you face
to recognize and avoid common errors using the child guidance tools
The class is led by Elizabeth Crary, a parent educator and author with more than 25 years of experience. She enjoys helping parents discover new skills. She is the author of over 30 books including STAR Parenting Tales and Tools, Am I Doing Too Much for My Child?, Without Spanking or Spoiling, and Love & Limits.

Reasons people like the online format
Convenient — I can get up early in the morning to work or sit down at the computer late at night - the flexibility is a HUGE plus and I can go at my own pace.
Economical — I don't have pay for a babysitter or drive to class each time.
Fun — I loved learning new ideas and then practicing them with my child.
Dates: Winter Quarter 2018 (Website available January 2 to March 21. Class starts Jan. 9)
Tuition: 5 credits: $80 plus $35 NSC distance learning fee. Total of $115.
For more information: contact Elizabeth Crary at Fam181@STARparent.com or 206-367-6425
To register: go online at http://www.northseattle.edu/kiosk/
Registration instructions: www.STARparent.com/classes/FAM181registration.html.