Speaking and Training
STAR Facilitator Training / 5 Day Class
Learn how to lead a STAR Basics Class.
Enhance your group leadership skills.
Refine your own parenting skills.
Why take STAR Basics facilitators' training?
STAR Basics is flexible. It —
adapts easily to the skill level of the parent
works with an individual or with groups
encourages parents to identify their values
adjusts as children grow
can be presented as a series or one-session overview
Who will benefit from attending?
People who are interested in helping parents grow, especially ...
Family life specialists and parent educators
Childcare and family daycare providers
Teachers and school administrators
Counselors and therapists
Parents who are interested in learning more
Anyone interested in helping children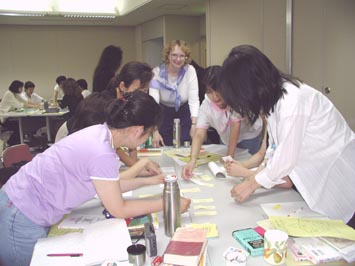 Elizabeth watches small group activity
At the facilitators' training you will:
Gain an understanding of STAR Basics ...
Apply the STAR process to a real-life situation.
View a behavior from different perspectives.
Practice solving problems with the whole star (15 tools).
Learn how to facilitate STAR Basics classes ...
Learn how collecting data helps parents resolve issues more easily.
Discover why "less" is often "more" when parenting.
Learn how to view behavior from a developmental perspective, and how to develop strategies to deal with the challenge.
Learn how to assist parents to set realistic goals for themselves and their children.
Understand the steps to become a certified STAR facilitator.
Enhance your group leadership skills ...
Learn how to use the STAR to resolve group management issues.
Review commonly used group leadership skills.
Appreciate how your own childhood experiences and present parenting style affect your viewpoint as a parent educator.
Refine your parenting skills ...
Evaluate your strengths on each point of the star.
Practice parenting tools you use infrequently.
Facilitators' Training Schedule
The STAR Basics facilitators training is generally offered in the summer, however, it can be arranged at other times. The location depends on where the interest is. Check the table below to see the current schedule.
Common Questions

Q: What does tuition cover anyways?
Q: What do I need to do before the training?
Q: Will I be certified to teach when I finish the workshop?
Q: How large will the group be?
Q: How much does the training cost?