Speaking and Training
Elizabeth Crary as Speaker
Elizabeth Crary is an entertaining, informative speaker on child guidance, dealing with feelings, and related issues. She has a gift for presenting solid, practical information in an enjoyable way.
She believes that —
"There is no one right way to solve a problem."

"The more alternatives you have, the more likely you are to find something that works for all people involved."

"All people are important, basically good, and their behavior makes sense in terms of their experience."
Engaging
Elizabeth's down-to-earth, effective style appeals to both parents and professionals. She uses real-life amusing stories to involve the participants. She has spoken to more than 800 groups across the United States and Canada. Audiences have ranged from 7 to 800 people. See the partial list of engagements.
Practical
Elizabeth's enthusiasm for parenting is contagious. She helps parents identify what they want for their children and offers the information, skills, and support parents need to be successful. The theme running through her work is, "look for alternatives." This advice works for parents, children, and professionals. Click here to read some sample topics.
Innovative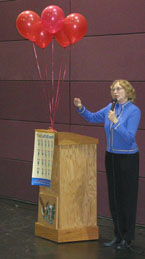 Elizabeth Crary speaking
on disappointment
(with props)
Elizabeth has a gift for presenting solid, practical information from a new perspective. She has developed the STAR Parenting model described in this site, children's problem solving books for common issues (see skill-building books), a unique developmental approach to dealing with sibling hassles in Help! The Kids Are at It Again and Self-calming Cards to use with children (and adults).
Read more in this section